Kalimpong
Kalimpong was earlier a subdivision of Darjeeling district, but now a separate district of West Bengal effective 14th Feb 2017 with an area of 1,056 square kilometers and inhabiting 49,403 people (as per 2011 census). Kalimpong town itself is small, located about 2.5 hours drive from both Darjeeling and Siliguri. But the town and its surrounding areas offer immense opportunities for tourism.
Kalim in local dialect means King's Minister and Pong means Stronghold. So the name Kalimpong actually means Stronghold of King's Minister and has originated from the time of king's dynasty in the region. Some say that the name has been derived from the word Kalibong (locals call it Kaulim). It's a type of fiber plant used for making paper. This plant is found in abundance in Kalimpong.
Kalimpong is located at an altitude of 4,100ft. Because of its relatively lower altitude compared to Darjeeling or Gangtok, the weather is milder and pleasant for most part of the year. And therefore it suits all tourists who are looking for such pleasant weather combined with magnificent views of Kanchenjunga and other Himalayan snow peaks, sweeping landscapes and lush greenery.
Kalimpong was once under that dynasty of the King of Bhutan. However they had to hand over the administration to the British on December 6, 1864. Since then the British flocked to this part of the country in numbers, built great schools with high standard of education (which Kalimpong is still well known for), created lovely housing architectures in traditional British style that will remind you of typical British countryside, built several charity institutions and of course many flowering gardens. While the British have long gone, you will still get an essence of all these in Kalimpong.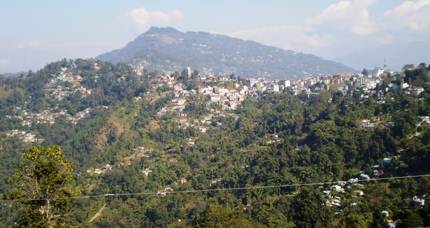 In 1866 Kalimpong was made a part of Darjeeling district. When the British had taken over Kalimpong, many Nepalese migrated to Kalimpong in search of livelihood. Lepchas, the original inhabitants of the place also flourished. Many Indians from the lower plains settled here for business. And slowly Kalimpong became a hub of trading center with Tibet. Mules & caravans would wend down from the Tibet plateau and trade wool here in exchange of manufactured goods. However the trade with Tibet ceased to operate in mid 1960s when Tibet was taken over by China.
But by then Kalimpong had already become a melting pot of diverse cultures and traditions from Lepchas, Nepalese (also known as Gorkhas), British, Indians, Tibetans and even Sikkimese. And you will find all its reflections in the local food & beverages, house architectures, language, and many other cultural dimensions. Today Kalimpong is well known for its stunning mountain views, great hill walks, bird watching, and wonderful scenic drives.
The towering Delo Hills is located in the north of Kalimpong. The reservoir here is the main source of water supply to the town of Kalimpong. On the south is the Durpin dara hills and at the center of the town is the main Kalimpong Market Square (Bazaar).
Kalimpong Market Square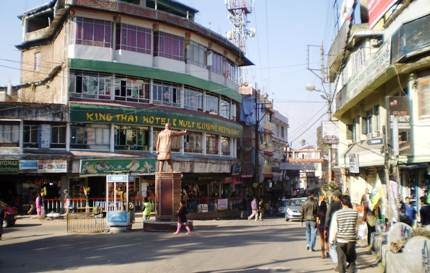 Straight ahead is Rishi Road
The Rishi Road from the square goes north having numerous Bhutia & Tibetan shops and many restaurants & eateries on both sides. This is where the main taxi stand of Kalimpong is also located. You will get ample taxis for sightseeing & tours.
So what can you expect in Kalimpong?
Although Kalimpong town itself is a bit congested, but the vast district is full of greenery, forested land and terraced fields where rice, corn, millet and seasonal vegetables are cultivated. The place is also well known for growing quality spices like cardamom, ginger, turmeric etc.
As you drive around the hills, you will find numerous flowering plantations, ferns and mosses. Just to give you an idea, there are over 4,000 species of flowering plants in Kalimpong district including over 400 types of orchids. Other than tourism, a major driver of economy here is Floriculture – there are numerous flower nurseries here that cater to both export and domestic markets. Some of the flowering plants grown in the nurseries include Cacti & Succulents, Orchids of different types, house plant & bulbs etc. You will see year-round flower shows in some nurseries here.
Kalimpong is an excellent location to base your vacation in North Bengal. Several great tourist destinations like Lava, Loleygaon, Rishyap, Pedong and Rikkisum are part of Kalimpong district and well connected by road. You can easily make day trips to these places. In fact you can also make day trips to places like Darjeeling, Mirik, Kurseong and even Gangtok. And in case you plan to make onward holiday trips to any of these places, Kalimpong can be an excellent starting point.
| | |
| --- | --- |
| Languages spoken | English, Gorha, Bengali, Nepali, Hindi |
| Area (km2) | 1,056.5 |
| Country name | India |