Darjeeling
Just to give you a head start about the place, Darjeeling hill town is located at an altitude of 6,710ft in north east India and is part of the state of West Bengal. The nearest airport is Bagdogra and the nearest major railway junction is New Jalpaiguri (NJP).
It takes about 3 hours to reach Darjeeling from both these locations by car. Private taxis (available at NJP and Bagdogra), shared taxis (available at NJP) and bus (from Siliguri bus stand, only 8kms from NJP) are the main public transports to reach Darjeeling from NJP station or Bagdogra airport. Alternatively, you can take the fascinating toy train from NJP or Siliguri all the way up to Darjeeling soaking in the Himalayan beauty in a 7-hour ride.
NOTE: Only private taxis are available at Bagdogra airport, no bus service, shared taxis or toy train. Unlike in Gangtok, there is no helicopter service from Bagdogra to Darjeeling. You need to go by road and negotiate steep & winding mountain roads.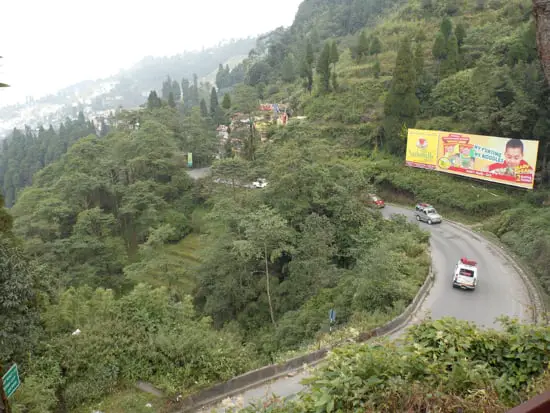 Although the area of Darjeeling hill town itself is small (about 10 square kilometers), Darjeeling is also a district and spans over a large area of about 2,100 square kilometers. The district has subdivisions like Kurseong, Siliguri etc as well as the hill resort town of Mirik. So there are many lovely places to visit within Darjeeling hills itself. Kalimpong which was earlier a subdivision of Darjeeling district has become a separate district of West Bengal effective 14th Feb 2017 with an area of 1,056 square kilometers of its own. It is no longer a subdivision of Darjeeling district. But that makes no difference to the tourists. In fact, Darjeeling, Kalimpong, Kurseon and a large part of Sikkim including Gangtok remains as the loved tourist destinations since over a century and several of them can be combined on a single trip.
Within Darjeeling town area, you can walk to visit several tourist attractions. Plenty of taxis (which are private commercial vehicles of various types – small & large) are available at the stands. They offer both local sightseeing tours as well as point-to-point transfers. You can also get shared taxis (mainly Jeep type vehicles) at the stands, but they are mostly available for transfers and seldom for tours.
Gangtok (the Capital of Sikkim) which is only 4-hour drive from Darjeeling along with several other parts of Sikkim offer great destinations to easily combine with Darjeeling. And many even plan for combined visits to places like nearby Bhutan to make the diversity of experience even richer.
Darjeeling hill town was originally set up as a sanitarium or health resort by the British in mid 1800s. But over the years, it earned its name for its world famous aromatic tea and then with opening up of roads and Darjeeling Himalayan Railway, for tourism.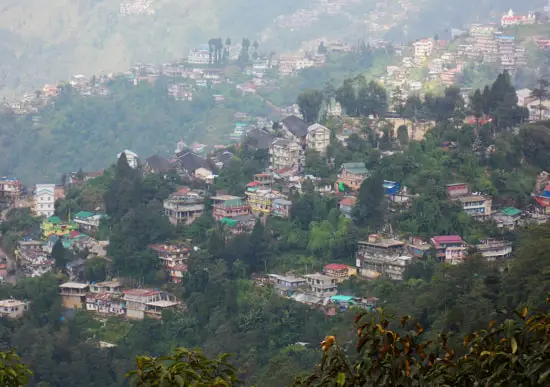 You will see numerous sprawling tea estates in Darjeeling that produce world's best tea, as well as the amazing narrow gauge Toy Train – an engineering marvel of 1880s which could overcome the steep gradients and curves of the mountains and provided a scenic railway transportation in the hills.
Residents are mostly immigrant Nepalese (predominantly Gorkhas), Tibetans, as well as some Lepchas and Bhutias from Sikkim. Nepalese are mostly Hindus while Tibetans follow Buddhism. When you compare them with the people of lower plains, they are quite different both in looks and culture. It's an amazing world out there. But they are warm and tourist friendly.
Over the past few decades Darjeeling lacked proper developmental support and had seen random and thoughtless constructions & overcrowding which it hardly deserved. Despite that the charming, sincere and friendly people of the place have continued to strive hard and successfully preserved pride of 'Queen of the Hills' as one of the best places for tourism even today.
The town center of Darjeeling is known as Mall or Chowrasta, which is a flat open public square, a pedestrian only zone free of vehicular traffic and surrounded by colorful stores with backdrop of mountains and valleys. Mall or Chowrasta is the main town center.
Most tourists try to stay near the Mall area to be close to hub of all activities, restaurants and shops. So due to high demand, numerous hotels of all types have mushroomed near the Mall area. Alternatively you can stay a bit away, enjoy nature & views, and a location relatively free of crowd.
During spring, summer and autumn, the weather in Darjeeling is pleasantly cool and perfect for city dwellers who flock in volumes during such time. Many come to enjoy the rains in monsoon and chill in the winter as well. And when such visits are combined with wonderful views of snow peaks and valleys, tea gardens, forests & flowering plantations, amazing sightseeing tours & activities, great food & stays, and all at affordable prices …. won't you love a vacation like that?
| | |
| --- | --- |
| Languages spoken | English, Hindi & Nepali |
| Area (km2) | 10.57 |
| Country name | INDIA |