x
Thank you for submitting an inquiry. We will get back to you as soon as we can.
Availability
book at : info@geshnaprakritiyatra,com
The Elgin Hotel
Over 125 years old and once the summer residence of the Maharaja (King) of Cooch Behar, the Elgin Darjeeling is now a luxury heritage hotel. The hotel is situated in the heart of Darjeeling town, 6000 feet up in the Himalayas. A celebration of the elegance and grace of the Colonial era in the Queen of Hill Stations, located in the majestic Himalayan ranges, the Elgin is very much a part of Darjeeling's colonial history. As you enter, the Elgin warmth hugs you and makes you feel at home with a glass of sparkling cherry liquor and a silken Khada (scarf) draped around your neck.
The Elgin has been restored to its original grandeur, snug and cozy in an interior decked with etchings of G.Douglas, lithographs of Daniell, period Burma teak furniture, oak floor boards and paneling, crackling fireplaces, candle-lit tables and strains of music from the grand piano. You realize the meaning of palpable 'old world charm' which has played host to dignitaries like the US Ambassador and the Crown Prince of Sikkim to Dominique Lapierre and Mark Tully. The hotel has stories to tell from the time of its first owner the Maharaja of Cooch Behar to Nancy Oakley in the 1950s.
Built in 1887 around a beautiful garden, the hotel has been extensively refurbished to restore it to its former grandeur and its history has been kept intact. The rooms offer splendid views of the mountains and valleys. The Elgin Darjeeling is a perfect base from which to explore the spectacular mountain scenery, pine forests and ancient monasteries of this world famous destination. The Elgin is within walking distance of the famous Darjeeling mall (High street), cafes, restaurants, bars and the Raj Bhavan (Governors House). A well stocked library, games room and children's activity centre and many opportunities for nature walks, make this luxury hotel and resort an all season destination.
Activities
SUITES & ROOMS
The twenty five luxury rooms of this mansion are seeped in nostalgia with stories to be heard from a bygone era of the elite, to days of mellow sunshine at the park or cheerful evenings at the Timber Bar. With a glowing fireplace and hot water bags in your bed, you will find all the amenities of comfort coupled with the charming Victorian décor. Our Attic Rooms on the top of the mansion with sloping roofs and wooden walls is an excellent place to unwind after a particularly tiring day at the mountains.
ALL OUR ROOMS COME WITH THE FOLLOWING FEATURES :
Business centre services
Satellite television, LCD Televisions in all rooms
Electronic safe, Teak armoire
Direct dial telephone
Free wireless internet access in all bedrooms & lounge
Designer toiletries by Salveo Botanicals in all bathrooms
Attached private bath with shower, Bathrobes & bath slippers
Minibar in all suites
Complimentary tea/coffee making facilities in all rooms
The Elgin's classically elegant interiors with panelling, pillars and chandeliers recall the days of the Raj. Many rooms at The Elgin have views across the valley and the Himalayas. The bathrooms include a vanity counter, a bathtub and come with deluxe Elgin designer toiletries. The Hotel is heated in winter, horses and ponies can be hired for trekking in the valley.
Deluxe Suites
The suites have an exquisitely appointed bedroom and an adjoining living room. These rooms are also laid with Burma teak flooring and king beds.
DINING
The Elgin has extended its hospitality for over 100 years to the kind of people who know the real style of living, like the Maharaja (King) of Cooch Behar who held most of his parties in this mansion entertaining his royal guests. With cozy interiors and classical tunes from the grand piano to discreet waiters in uniforms to serve you at all hours, the ambience is perfect. The Elgin chefs can win you over with a selection of delicious local, Indian or Continental cuisine with fresh bread, cakes and pastries prepared in-house for breakfast. The Elgin also serves special high tea from the world famous tea gardens of Darjeeling at the lounge.
The Orchid Dining Room
The Orchid Dining Room at the Elgin offers a selection of European and Asian set menus. There is a variety of Indian, Continental, Italian and Regional cuisines and is open for Breakfast, Lunch and Dinner. The wood panelling, chandeliers and lithographs add to its old-world elegance and charm.
In-room dining is available throughout the day in all rooms. 
The Gazebo at the Garden
The outdoor gazebo at the Elgin offers a light menu with a range of snack and drinks. Enjoy a light meal here from 11 am to 6 pm.
The Tea Lounge & Timber Bar
The Lounge is located in the Lobby level and also has a Bar. Guests can also enjoy tea or a quiet drink in front of a roaring fire. The Tea Lounge and Bar offers service from 11 am - 11 pm.
SPECIAL THEMES & DINING OPTIONS
NEPALESE CULTURAL DANCE
---
The traditional Nepalese dance is celebrated with great enthusiasm and mirth in the hills of Darjeeling. Darjeeling is credited with its tea gardens and many lip smacking and mouth watering local Nepalese dishes. The Elgin offers one with an opportunity to be acquainted with the various delicacies of the Darjeeling Hills. Experience the grandeur of Darjeeling at The Elgin. Guests are welcomed during evening by ladies and men dressed in traditional attire. The artists take you through a musical journey of Darjeeling with a commentary describing the importance of each rendering. Guests are encouraged to participate in the dances with the artists helping the guests with the dance rituals. The service team is also dressed in traditional colonial attire of the British Raj. Cuisine of Darjeeling is rich and unique as many other Indian cuisines. Influence of the colonial British Raj, Nepal and Tibet can be clearly seen in the cuisine. Moreover, the geographical and climatic conditions of Darjeeling have also had an impact on the way and kind of dishes prepared in the Darjeeling.
SPA
A rejuvenating experience to revitalize after a hectic day's schedule, try our Spa and feel the difference. The Spa offers a 'menu' of relaxing and reviving massages and beauty treatments. Aromatherapy and Swedish, all feature, along with Indian Head and Shoulder Massage and Facials. The spa therapy room, is the perfect place to relax and unwind after a long day in the mountains.
Enriched by a serene and tranquil setting, here is how you can ease away a tiresome day with our Spa treatment by expert therapists. Take your body and mind to new heights of relaxation and rejuvenation. At our beautifully appointed spa, the bracing mountain air conspires with the healing hands of our trained therapists to restore the natural balance of the body.
Holistic Ayurvedic-inspired as well as internationally influenced therapies, soothe the senses and promote a feeling of complete well-being. Pamper yourself and relax your senses as you embrace spectacular mountain views. A session at the Elgin Spa promises to be a journey of transformation.
Indian Head Massage
Ancient Indian therapy where pressure points on the scalp, neck and shoulder are stimulated to improve circulation, relieve tightness and tension and promote relaxation as if you've been transported to a tropical oasis in the midst of The Himalayas.
Foot/Leg Massage
The reflex points on the sole of the feet are worked on, to stimulate energy flow so as to restore harmony to the body's function. A leg massage is included to promote relaxation to produce a sense of completeness.
Stress Relieving Massage
Drawing upon the best of Eastern and Western techniques, this oil massage combines soothing strokes to loosen muscular tension, encourage lymphatic flow to balance the internal system and coax your body to respond positively to the caring language of touch.
Darjeeling
Just to give you a head start about the place, Darjeeling hill town is located at an altitude of 6,710ft in north east India and is part of the state of West Bengal. The nearest airport is Bagdogra and the nearest major railway junction is New Jalpaiguri (NJP).
It takes about 3 hours to reach Darjeeling from both these locations by car. Private taxis (available at NJP and Bagdogra), shared taxis (available at NJP) and bus (from Siliguri bus stand, only 8kms from NJP) are the main public transports to reach Darjeeling from NJP station or Bagdogra airport. Alternatively, you can take the fascinating toy train from NJP or Siliguri all the way up to Darjeeling soaking in the Himalayan beauty in a 7-hour ride.
NOTE: Only private taxis are available at Bagdogra airport, no bus service, shared taxis or toy train. Unlike in Gangtok, there is no helicopter service from Bagdogra to Darjeeling. You need to go by road and negotiate steep & winding mountain roads.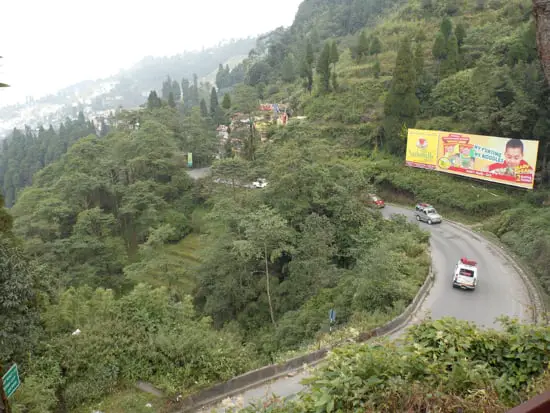 Although the area of Darjeeling hill town itself is small (about 10 square kilometers), Darjeeling is also a district and spans over a large area of about 2,100 square kilometers. The district has subdivisions like Kurseong, Siliguri etc as well as the hill resort town of Mirik. So there are many lovely places to visit within Darjeeling hills itself. Kalimpong which was earlier a subdivision of Darjeeling district has become a separate district of West Bengal effective 14th Feb 2017 with an area of 1,056 square kilometers of its own. It is no longer a subdivision of Darjeeling district. But that makes no difference to the tourists. In fact, Darjeeling, Kalimpong, Kurseon and a large part of Sikkim including Gangtok remains as the loved tourist destinations since over a century and several of them can be combined on a single trip.
Within Darjeeling town area, you can walk to visit several tourist attractions. Plenty of taxis (which are private commercial vehicles of various types – small & large) are available at the stands. They offer both local sightseeing tours as well as point-to-point transfers. You can also get shared taxis (mainly Jeep type vehicles) at the stands, but they are mostly available for transfers and seldom for tours.
Gangtok (the Capital of Sikkim) which is only 4-hour drive from Darjeeling along with several other parts of Sikkim offer great destinations to easily combine with Darjeeling. And many even plan for combined visits to places like nearby Bhutan to make the diversity of experience even richer.
Darjeeling hill town was originally set up as a sanitarium or health resort by the British in mid 1800s. But over the years, it earned its name for its world famous aromatic tea and then with opening up of roads and Darjeeling Himalayan Railway, for tourism.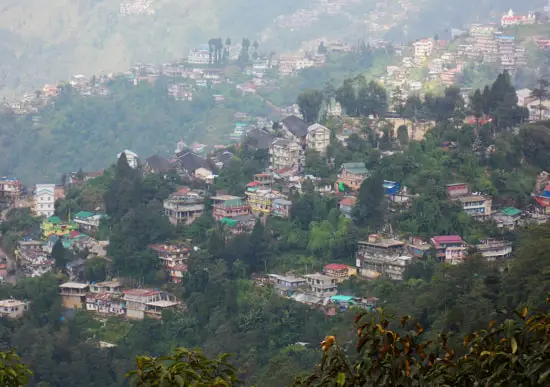 You will see numerous sprawling tea estates in Darjeeling that produce world's best tea, as well as the amazing narrow gauge Toy Train – an engineering marvel of 1880s which could overcome the steep gradients and curves of the mountains and provided a scenic railway transportation in the hills.
Residents are mostly immigrant Nepalese (predominantly Gorkhas), Tibetans, as well as some Lepchas and Bhutias from Sikkim. Nepalese are mostly Hindus while Tibetans follow Buddhism. When you compare them with the people of lower plains, they are quite different both in looks and culture. It's an amazing world out there. But they are warm and tourist friendly.
Over the past few decades Darjeeling lacked proper developmental support and had seen random and thoughtless constructions & overcrowding which it hardly deserved. Despite that the charming, sincere and friendly people of the place have continued to strive hard and successfully preserved pride of 'Queen of the Hills' as one of the best places for tourism even today.
The town center of Darjeeling is known as Mall or Chowrasta, which is a flat open public square, a pedestrian only zone free of vehicular traffic and surrounded by colorful stores with backdrop of mountains and valleys. Mall or Chowrasta is the main town center.
Most tourists try to stay near the Mall area to be close to hub of all activities, restaurants and shops. So due to high demand, numerous hotels of all types have mushroomed near the Mall area. Alternatively you can stay a bit away, enjoy nature & views, and a location relatively free of crowd.
During spring, summer and autumn, the weather in Darjeeling is pleasantly cool and perfect for city dwellers who flock in volumes during such time. Many come to enjoy the rains in monsoon and chill in the winter as well. And when such visits are combined with wonderful views of snow peaks and valleys, tea gardens, forests & flowering plantations, amazing sightseeing tours & activities, great food & stays, and all at affordable prices …. won't you love a vacation like that?
Sports & nature
Jeep Safari to Singalila National Park
Mahananda Widlife Sanctuary
Motor Bike Tours & Rentals
Mountain Bike Tours & Rentals
Zorbing (rolling inside a ball)
What to expect 
So you might be thinking it's a joke that even a laid back hill town like Darjeeling can offer exciting adventure activities and sports. You will be surprised to know the big leaps the place is taking to become one of the hubs of adventure sports and tours in the north-eastern India.
The foaming waters of the mountain rivers Teesta and Rangeet attract large number of enthusiasts for white water rafting every year. Sandakphu and Phalut treks are already well established trekking routes in the region and very popular to trekkers from all over the world.
There are operators in Darjeeling who have also introduced several other adventure activities like paragliding where you can fly like a bird and enjoy the panoramic mountain landscapes from the sky, Rock / Sport climbing where you can learn and try out rock climbing, Kayaking along river Teesta, riding the Hot Air Balloon to soak in the views from the sky, motor bike tours, mountain biking and lot more.
And of course there are safaris and adventure tours to mind blowing places like sanctuaries, national parks, peaks of Singalila range and more. Sounds interesting? Then read on...
Paragliding in Darjeeling 
This aerosport is now increasingly getting popular in Darjeeling both with tourists and locals. After all who doesn't want to fly like a bird? And that too watching the lovely mountain landscapes, tiny houses & mountain villages, Kanchenjunga snow peaks and even the Everest from the sky. Like to experience the paradise? Try paragliding in Darjeeling. It can be done by anyone. If you have never done it before, don't worry, there is something called tandem paragliding where a guide will accompany you and control the whole flight. All you have to do is to enjoy being in paradise.
White Water Rafting in Teesta 
If you have a little sense of adventure, then don't miss out on this one. White water rafting is easy to organize with your Darjeeling trip. The rafting on the river Teesta is an amazing experience where the foaming river flows down a valley with forested banks and mountains on both sides. The many birds, fishes, flora & fauna combined with the rafting excitement can become a memorable experience for life. It can be done by anybody, even novices, all you need is a sense of adventure and fun. Rafting can also be combined with camping on river banks.
Trekking in Darjeeling 
Who hasn't heard about the famous treks to Sandakphu and Phalut? Both are in Singalilla range and part of Darjeeling district, and offer awesome experience that very few other treks in the world can match. Where else in the world can you see four out of the five highest peaks of the word in one stretch of snow? Where else can you find hundreds of different varieties of orchids and many other flowering plants like rhododendrons, magnolia and spruce in full bloom? It's all here in Darjeeling. All you need to do is to make up your mind just for a soft trek and give yourself few days time in the heaven.
Jeep Safari to Sandakphu and Phalut 
Well if you can't trek or don't have the time to do so, you can still be in the heavens by taking a jeep safari to Sandakphu and onward to Phalut. You can either take a packaged tour from an operator in Darjeeling (this is the easiest) or organize it yourself by taking a Jeep or Land Rover from Maneybhanjan and complete the round trip in just two days. I have described the experience and all the options of taking this jeep tour in the link above. Jeep Safari to Singalila National Park If you love mountain forest, Singalila National Park is the place to go. Located at a high altitude along the way to Sandakphu, the park is a paradise for those who love to see some amazing Himalayan animals like Red Panda, Pangolins, Yellow Throated Martens and lot more. And of course it's home to many magnificent plantations and flowering plants like silver firs, oaks, ferns, rhododendrons, orchids, magnolias, primula etc. And a great bonus is that the park is located close to Tumling from where the view of Kanchenjunga snow peaks are just awesome.Mahananda Wildlife Sanctuary 2 1/2 hours drive from Darjeeling this is a sprawling forest area and a sanctuary spanning across some 158 square kms. Regular jeep safaris are available from the Sukna gate. You can see some amazing animals including Royal Bengal Tigers (if lucky), leopards, elephants, barking deer etc in their natural habitats. Apart from wide range of plantations, the sanctuary is also a bird watchers paradise. You can even take elephant rides here through the forests.
Kayaking (Canoeing)
There are operators in Darjeeling who offer complete packages for kayaking which is usually done at Rammam River in Singla or at Chota Rangeet river near Singla. The packages include road transfers, food, camping, all equipment and gears, instructions and lessons at all levels. It can also be combined with overnight camping on river bank, cultural programs, tea garden tour etc.
Camping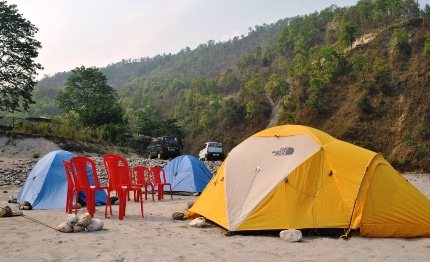 Some of the most popular camping sites are along the Sandakphu/Phalut trek route like at Tonglu. These are called high altitude camping. Camping also takes place at Tiger Hill. It can be combined with rafting & Kayaking as well and such camping usually takes place along the river banks like of Teesta. More Info...
Rafting and Camping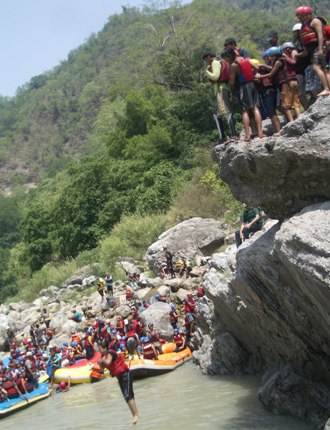 Packages are offered by operators that combine white water rafting with river bank camping. You will camp in natural surrounding of forests and hear the sounds of the river flowing at night just next to you, and wake up to the chirping of the birds. Cliff Jumping and Body Surfing are also offered along with Camping and Rafting activities. Get Operator Info...
Rock Climbing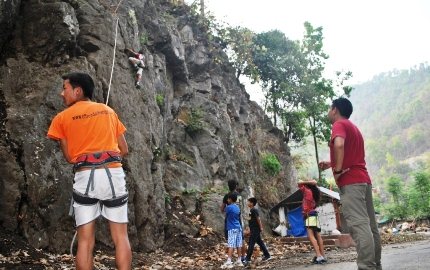 Darjeeling has several rock sites where rock or sport climbing takes place. One of the popular places for rock climbing is Tenzing Rock. This is where Tenzing Norgay (the first Everest climber) also practiced rock climbing. Many tourists try it out and get a feel of the time when Tenzing used to come here. Lessons are also offered at all skill levels including to novices. Get Operator Info...
Mountain Bike Tours and Rentals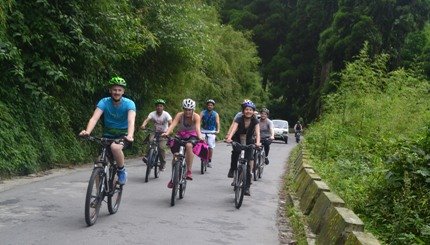 Like motor bikes, you can also rent a mountain bike or take part in a guided group tour which can be customized for you or your group. There are excellent cycling trails to places such as Pokhribong, Manebhanjan, Lamahatta, Kurseong etc.In January 2017, a wonderful 20km stretch of mountain biking trail has been opened through Senchal Wildlife Sanctuary up to Chatakpur which is the first Mountain Biking Park in India.
Mountain biking in Darjeeling
Although it depends on the destination and the tour, a typical group size in a guided cycling tour can be between 2 to 12 and the tour duration about 7-8 hours. You get excellent quality mountain bikes in Darjeeling like the Trek, Conandale etc.
Motor Bike Tours and Rentals If you want to see Darjeeling and surrounding areas on a motor bike, there are two options. Either you can take a guided organized tour or take a motor bike on rent. You will get motorbikes like Royal Enfield in good condition. There are plenty of amazing terrain to explore in and around Darjeeling including tea gardens, villages, mountain landscapes and sanctuaries.
Take a leisure ride at your own pace, have a map (given by the operator) to chalk out your route through the mountain landscape or just get lost, stop at any place you want and have a cup of tea while chatting with a local ... the opportunities are plenty.
Zorbing 
This is a funny adventure sports meant mostly for the young and children. A huge soft plastic ball is fully blown by pumping air into it. You will then be secured inside the ball and the ball would rolled on the ground. While you will surely enjoy the spin inside, crowd will gather outside to watch the fun and give a hand in rolling the ball. Zorbing requires prior booking.
Zorbing at Kurseong, Darjeeling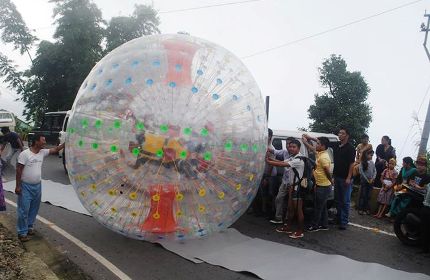 Hot Air Balloon 
So what if you are bit scared to paraglide, there is another great way to view Darjeeling and the Himalayan snow peaks from the sky, and it's the magnificent Hot Air Balloon!! You will be sitting in a basket carrier under the canopy of a huge brightly colored parachute and gradually lifted in the air, safely. Don't worry, the parachute will be tied to the ground with ropes and there will be a guide accompanying you. The balloon is filled with hot air from a burner fitted to it. As it rises to 300-ft above the ground, the feeling and the view around is awesome, and will remain as an unforgettable experience.
Nightlife info
Most of the visitors think that there is no nightlife in Darjeeling. Some even think that there can never be a nightlife in such a lazy hill town that goes off to sleep by 8pm. Well, if you are looking for nightclubs or discos where you can dance away to the wee hours while a DJ plays a hard rock, then surely Darjeeling may not be the place for you. But to say that Darjeeling has no nightlife at all is wrong.
This old hill town with its old colonial charm has adapted itself over time and offers nighttime entertainment in its own unique way.
It's a fact that most of the locals call it a day early. This has been a tradition and a result of somewhat conservative culture of Darjeeling. In summertime many restaurants and bars take last orders by 9:30pm and in winter even earlier. The shops start pulling the shutters down by 7pm.
But that doesn't mean you too need to shut your day off for the night. Whenever I feel like extending my evening in Darjeeling to remain immersed in its magic, I pick up one of the following nightlife choices:
Pubs & Bars 
Joey's Pub 
This is a traditional British style pub housed in a cozy cottage building. The pub is owned and run by Puran Gongba, a charming man in his middle age. Initially set out to be a great musician, but as the destiny would have it, Puran ended up running this pub. He named it after his son who lives abroad. If you sit at the bar counter, you are likely to meet up with locals who come here regularly & swear by this pub, and of course Puran himself who is usually always available at the bar making drinks for the guests.
There are several tables with comfortable cushioned seats, and you can even enjoy watching a sports channel on LCD TV. As the night trickles through and if Puran is in great mood, you can request him to play his favorite guitar - he is a master. But he may not if there are many other guests around.
He learned guitar in a hard way when he dreamt of becoming a musician and even took formal lessons in the U.K. He made several stage performances and worked with well known bands.
But that unfortunately has never been a great way to plan livelihood in a place like Darjeeling. When the reality struck, he had to settle down with something more practical to support his family. And that was when he started his stint in the pub. Before the pub closes, Puran would usually pour a drink or two for himself (only few of his close friends at the bar know that). Joey's Pub is located centrally on a lane opposite to the post office and close to the Big Bazaar of Ladenla road.
The Buzz 
This is a more sophisticated and upscale pub & bar which is part of the well known Glenary's. It is located at the basement of the Glenary's building and offers a wide range of drinks and the complete range of food from Glenary's restaurant upstairs. As you walk in, the bar counter is right in front.
There are elevated areas next to the bar counter with tables and seating arrangements, and also several private cabins. The pub is marked by the various collections of items like models of vintage cars, cart wheels, bugles and many other musical instruments hanging from the ceiling and walls. Overall the atmosphere is casual and friendly. A music plays in the background all the time. Buzz also offers Hukas for smokers. They also make nice cocktails.
The Park 
Located on Laden La road and opposite to the State Bank of India, The Park is another story where a musician had to turn into restaurateur. Deep, an entertaining jolly man who sits at the front counter with a large cowboy cap and many tattoos on his body, is the owner. If you look at him, you know that he could never set out to run a bar cum restaurant.
Deep of Park, Darjeeling 
But he too like Puran had to make a practical choice. And he has really done it well. The Park is a great serving authentic Thai dishes and has a bar that keeps a nice selection of drinks. The atmosphere is nice, relaxed and family friendly.
Glenary's Restaurant & Bar 
This restaurant & bar was established during the British colonial days. The aura and the old colonial charm is still maintained. As you walk into the upper floor of Glenary's building, the high ceiling with many artwork on it and the large dining hall still holds the grandeur it had over 100 years back. This is a relatively upscale bar & restaurant and offers a wide range of options both for food and drinks.
Ringchen at the Bar of Glenary's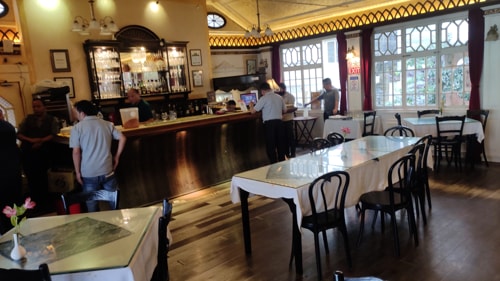 The overall atmosphere is friendly and comfortable. Many of the waiters here are old timers, so service may be a little slow. As you sit next to the windows overlooking the Nehru Road below, you can watch the continuous flow of people walking by. On the other side of the dining room, the windows open up to wonderful view of the mountains and valley. However you can get such view only during the day time or if its a full moonlit night.
Shangri-La Restaurant & Bar 
Few yards from Glenary's along Nehru Road that leads to the Mall, you will find this cozy bar & restaurant. This building too came up during the colonial days. The inside decor is really appealing. There is a section next to the bar counter. The interior is mostly wood finished with arches.
Shangri-La Bar, Darjeeling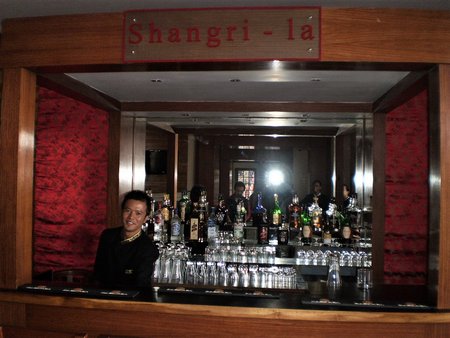 Fireplaces are lit up during winter. Large plasma TVs are fixed on the walls. The bar has nice selection of drinks of all types including wine, whiskey, bear, rum, vodka etc.
Gatty's Cafe 
Although it's a cafe, it's a combination of bar, cafe and a music lounge. Live bands play in the evenings during the high season. Other times a western music is usally played. This is the only bar in the whole of Darjeeling which stays open till late night (until 12am and sometimes beyond).
You can find a lot of foreign tourists here. The ambience is friendly and casual, and ideal to meet and chat with fellow tourists and get to know their experience in treks & tours over a drink. The cafe serves mostly western fares. The food is nice. Other than spirits, cocktails and beer, they also serve hot and cold beverages like coffee, Darjeeling tea and soda of various kinds. Gatty's cafe is located about 10 minute uphill walk from Chowrasta (Mall) along Zakir Hussain road.
Clubs & Movies 
Darjeeling Gymkhana Club 
This is the most prominent club in Darjeeling which was established in 1909 over 2 acres of land area during the British era. Today it has over 460 permanent members from Darjeeling and other places. While the club is not open to general public, you can either visit the club as a guest or take up a temporary membership. The club offers temporary memberships even for few days to visitors for staying in its rooms & suites, and/or enjoying the club facilities. Many foreigners do so. On an average, every year about 500 visitors take up temporary memberships. The club was earlier known as Darjeeling Amusement Club because of its many entertainment activities.
Other than enjoying a separate bar which is opened to guests and temporary members, you can also participate in many types of indoor games in the evenings like badminton, table tennis, card games etc. There are three indoor badminton courts with wooden floors and one hard court. The card room has six tables and is complete with fireplace.
The food in the club is excellent and they serve many different cuisine including Chinese, Tibetan, Continental, North Indian, and Bengali dishes. Recently the club has been extended and a new building housing 3-star category rooms and services has come up in the premises.
Darjeeling Gymkhana Club is located above the Mall road close to the St. Andew's Church.
Phone: (0354)-2254342 / 2254341. Email: darjeelinggymkhanaclub@yahoo.com
INOX Movie Theater, Darjeeling 
Here is another great way to spend your time at night in Darjeeling - watch a movie at Inox. There are a number of shows that take place starting from morning hours running up to late evening. Usually Hindi blockbusters and latest Hollywood films are screened. Inox Rink Mall. 19 Laden La Road. Phone (Ticketing): +91/354-2257183
Culture and history info
The culture of Darjeeling, India, is quite diverse and unique. The two predominant religions are Hinduism and Vajrayana Buddhism. Dashain, Tihar, Buddha Jayanti, Christmas, Holi, Ram Navami, etc. are the main festivals. Besides, the diverse ethnic populace of the town also celebrates several local festivals.
The History of Darjeeling covers the history of Darjeeling town and its adjoining hill areas belonging to Sikkim, but eventually part of British India so now in the Indian state of West Bengal, which is intertwined with the history of Nepal, Sikkim, Bhutan, Bengal and Great Britain, i.e. the East India Company.
Languages spoken
English, Hindi & Nepali
---
Read more
We are sorry, there are no reviews yet for this accommodation.
