x
Thank you for submitting an inquiry. We will get back to you as soon as we can.
Availability
book at : info@geshnaprakritiyatra,com
Palm grove Servicr Villa
Palm Grove Service Villa is a budget accommodation located at Edappally, Cochin, Kerala -God's own country. This property is situated directly off NH -47. It's got a calm and serene atmosphere which makes it a perfect place for a relaxed stay. It is an ideal place to unwind. It is suitable for long stays for writers and artists.
Kochi (Cochin) is situated in the breathtakingly scenic state of Kerala -which is also known as God's own country. Kerala is one of the 50 must see places in the world selected by National geographic society. Kochi is Kerala's prime tourist destination which spreads across islands between the Arabian Sea and the backwaters. Kerala is also one of the thirteen paradises in the world
Activities
»
4 A/C & 5 Non A/C rooms
»
24 hrs cable T.V.
»
Hot & cold water
»
Coffee maker.
»
Camp fire facilities.
»
Indoor games.
»
Local sightseeing can be arranged.

| | |
| --- | --- |
| | Fort Cochin & Jewish synagogue |
| | House boat stay |
| | Village tour by country canoe. |
| | Sunset and harbor cruise to sea mouth. |
| | |

»
Pickup & drop facilities.
»
Tour packages to other destinations in Kerala.
Cochin
Kochi (also known as Cochin) is a city in southwest India's coastal Kerala state. It has been a port since 1341, when a flood carved out its harbor and opened it to Arab, Chinese and European merchants. Sites reflecting those influences include Fort Kochi, a settlement with tiled colonial bungalows and diverse houses of worship. Cantilevered Chinese fishing nets, typical of Kochi, have been in use for centuries.
Sports & nature
1. Mattancherry Palace – The Dutch palace, much like a typical Kerala house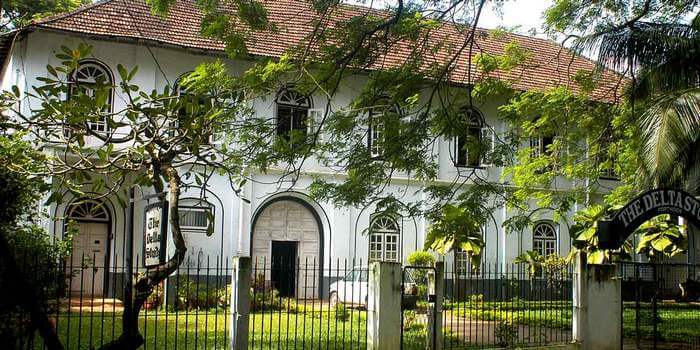 Mattancherry Palace, located in Palace Road and built by the Portuguese as early as 1557, is considered to be one of the important places to visit in Cochin. Popularly known as Dutch Palace, it has the style and architecture that resembles a typical traditional Kerala house with four individual wings and a patio in between.
Don't miss: Like every Kerala house, Mattancherry palace also has a courtyard in the center. The courtyard has a beautiful temple of Bhagavati, the protective deity of Kochi community. There are two other temples of Shiva and Krishna inside the palace. Also the collection of frescos and paintings covering a large portion of the palace walls is worth seeing. However, don't restrict to the interiors of the palace. Take in the beauty of its famous sprawling gardens and manicured lawns, that earned it a spot among the best tourist places in Kochi.
Opening hours: 10 am to 5 pm.  In between, the palace is closed from 1 pm to 2 pm for lunch. The Palace is closed on every Friday. Plan accordingly.
Entry fee:  INR 2 per head. Yeah, read again to believe.
2. Indo-Portuguese Museum – An amalgamation of Indian and Portuguese culture
The Indo-Portuguese Museum is an amalgamation of Indian and Portuguese culture and architecture. Located in Fort Kochi area, it was built by former Bishop of the city, Joseph Urethra. The museum is divided into 5 wings exhibiting Altar of Furniture, Treasure, Procession, Civil Life and Cathedral.
Don't miss: The museum houses some prized artefacts like Processional Cross made of silver and wood, Indo-Portuguese Monstrance, and Coat of Arms of the Francis.
Opening hours: 10 am to 5 pm. The museum is closed on every Monday and public holidays.
Entry fee:  INR 10 for Indians and INR 25 for foreigners. However, if you happen to visit on the first Thursday of the month, entry is absolutely free.
3. Paradesi Synagogue – The Jewish church is among the b'ful places to visit in Cochin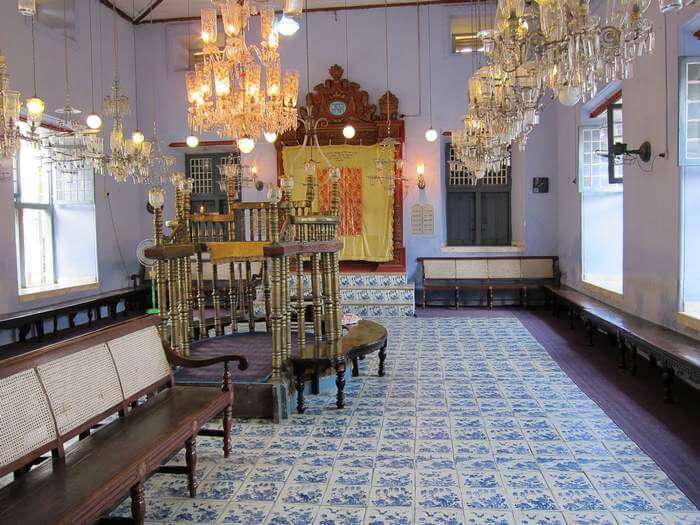 Built in 1568, Paradesi synagogue or the Jewish synagogue is the oldest one amongst all commonwealth countries. Jewish synagogue is located in Jew Town area of Cochin and was built by Cochin Jewish group or Malabar Yehudan people.
Don't miss: Paradesi synagogue houses very rare and appreciated antiques like carved teak ark with four scrolls of Torah (the first five books of Old Testament), silver and gold crowns, chandeliers made of Belgian glass, century old copper plates, hand-woven oriental carpet and a clock tower.
Opening hours: 10 am to 12 noon, and 3 pm to 5 pm. It is open all days of the week.
Entry fee: Entry is free inside the synagogue.
4. Hill Palace – A heritage museum dedicated to the Maharaja of Kochi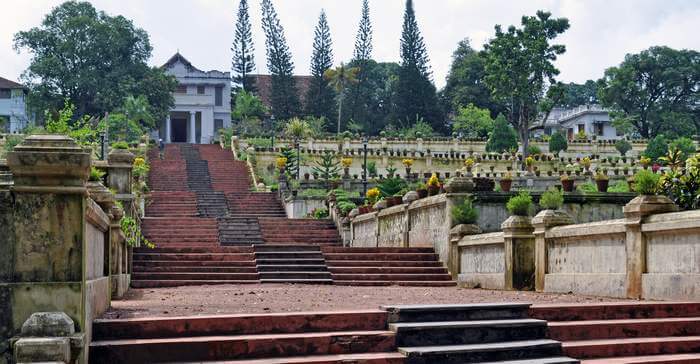 Hill Palace is a heritage museum and houses many archaeological relics and imperial belongings of the Maharaja of Kochi. The palace was constructed in 1865 and comprises 49 buildings. The beautiful gardens and refreshing outer facade of the museum are added bonus, besides the real knowledge and artefacts huddled inside the buildings.
Don't miss: Along with modern-day art gallery, other popular objects worth seeing are Kudakkallu (tomb stone), Thoppikkallu (hood stone), granite & laterite memorials, rock-cut armaments of the Stone Age, wooden temple replicas, and plaster cast prototypes of objects of Mohenjodaro and Harappa of the Indus Valley Civilisation. If you a history or culture buff, Hill Palace is certainly among the best places to see in Cochin.
Opening hours: 9 am to 12 noon, and 2 pm to 4.30 pm.  The adjoined Children's park is open till 6 pm. Mondays are weekly offs for the palace.
Entry fee:  INR 30 per head
5. Folklore Museum – An interesting museum with an interesting facade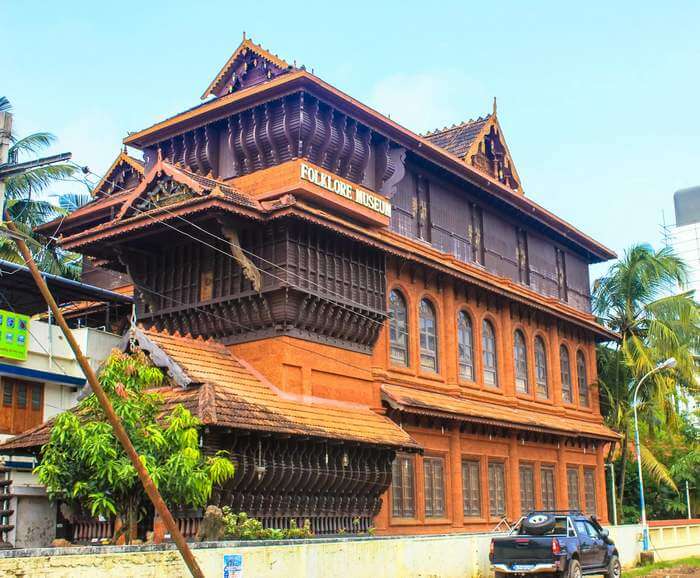 Kerala Folklore Theatre and Museum is one of the popular tourist places in Cochin. It displays cultural exhibits and folk-tribal objects of the state. The museum is a 3 storeyed building, inaugurated in 2009 and representing the real legacy of Kerala. The building's facade had a very strong Malabar architectural influence.
Don't miss: Folklore Theatre and Museum displays traditional Kathakali masks, costumes, sculptures, musical instruments, ornaments, and utensils which belong to the historic stone age. Do not miss the manichitrathazhu, a traditional ornate door lock of Kerala while you enter the building.
Opening hours: 9.30 am to 7 pm.
Entry fee: INR 100 per head
6. Veegaland – The most fun of all the places to visit in Cochin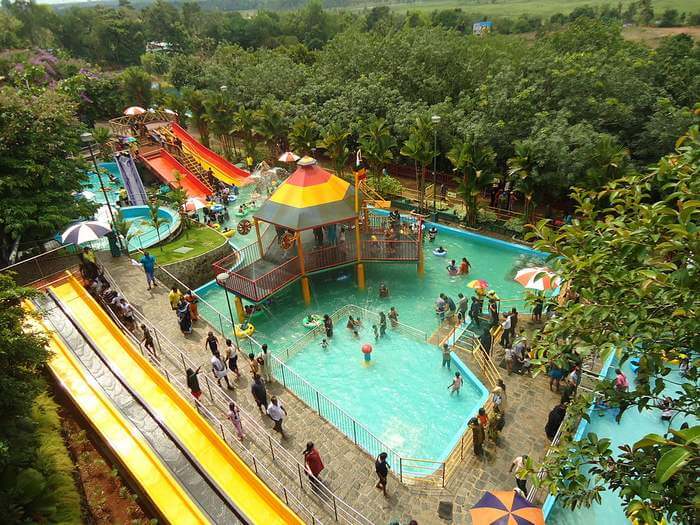 Popularly known as Wonder La Amusement Park, Veegaland is the country's first theme park and one of the most happening places to visit in Cochin. Located on hill top, Veegaland is famous for thrilling and fun filled rides, thus making it a perfect for a family outing.
Don't miss: The park comprises exhilarating land and water rides. One can enjoy bumping cars, dancing cars, musical fountain, flying ammu, convoy – the toy train for kids, balloon tower, castle jet, wonder splash, rapid river, boomerang, water coasters and much more. If you like adventurous rides, go for twin flip monster, vintage tornado, thunder fall, space gun and maverick. Show the world how daring you are!
Opening hours: 11 am to 6 pm on weekdays, and 11 am to 7 pm on weekends and holidays.
Entry fee: Veegaland has a concept of Regular and Fastrack tickets. The latter allows tourists to enjoy rides with shorter queue and lesser hassle. However, it costs more than the price of regular tickets. Also, fastrack tickets are limited to 500 PAX in a day, so it basically serves the first-come-first-serve purpose.
7. Mangalavanam Bird Sanctuary – A biosphere heaven for nature enthusiasts and bird-lovers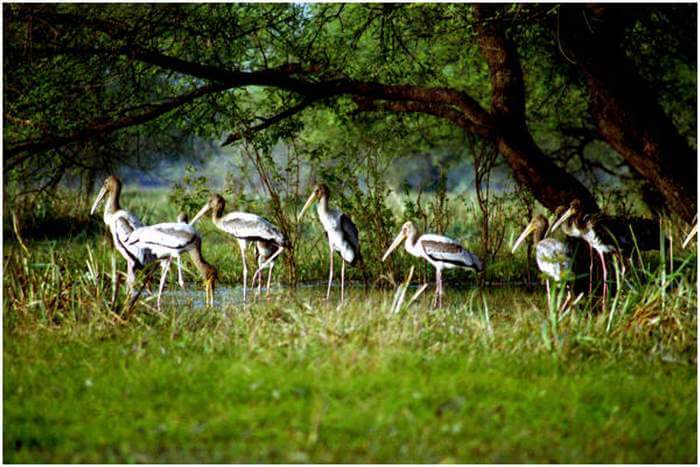 This biosphere reserve located at Central Cochin is a natural habitat to many endangered and regular species of local and migratory birds, as well as mangrove vegetation. The sanctuary encircles a tidal lake which is connected to the backwaters and one of the imperative places for sightseeing in Cochin especially for nature lovers. It is a also a home to several species of fishes.
Don't miss: In 2006, Mangalavanam Bird Sanctuary was home to 194 birds of 32 species. Consider yourself lucky if you happen to spot redshank, greenshank, brahminy kite, white breasted water hen and marsh sandpiper. The beautiful landscape of the sanctuary has earned it a spot on the list of best tourist places in Cochin.
Opening hours: 9 am to 6 pm
Entry fee: None. However, carry your own water bottles and snacks as the eateries inside are far less and random.
8. Santa Cruz Basilica – One of the oldest tourist places to visit in Cochin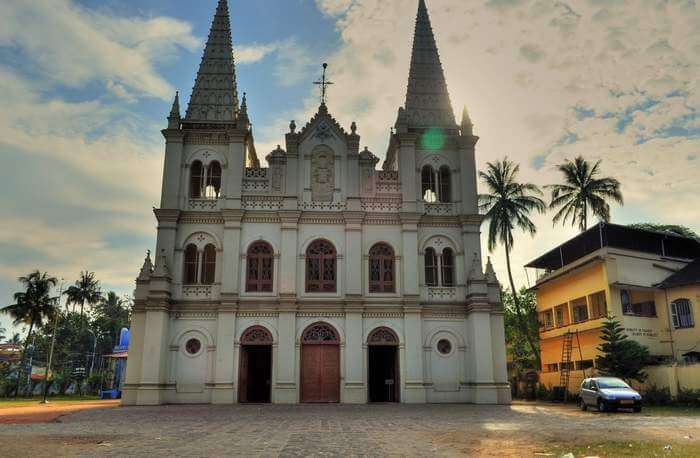 One of the most ancient churches in India and one among the 8 Basilicas, Santa Cruz Basilica is truly one of the oldest and the most beautiful places to see in Cochin.  It reflects historical glory and pride. This is the Cathedral church of the Diocese of Cochin and is considered as one of the heritage sites of the state.
Don't miss: Explore the true Gothic pattern of architecture, both on the interior and the exterior. Magnificent historical paintings on the walls of the church must be missed.
Opening hours: 7 am to 6.30 pm from Monday to Saturday, and 8 am to 6.30 pm on Sundays.
Entry fee: None
9. St Francis Church – See it for its grandeur and old-world charm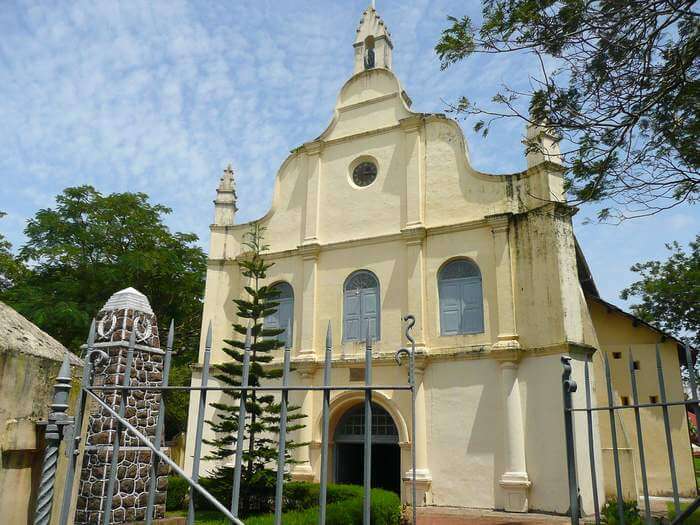 St Francis Church is one of the oldest churches in India, built by the Europeans. It is well-known for its beautiful surroundings, serene environment, and stunning design.
Don't miss: The extraordinary exterior structure with stepped pinnacle on two sides and the interior with pinnacle, chancel roof along with the baptism platform, book rests, offering and confessional stage are worth seeing. All these reflect the grandeur and charisma of the old-world and its traditions.
Opening hours: 7 am to 6.30 pm on all days, except Sundays. The timings are from 8.30 am to 6.30 pm for Sundays.
Entry fee: None
10. Cherai Beach – One of the most tranquil tourist places in Cochin
A tranquil and pristine beach, Cherai is dotted with lush green swaying coconut plantations. There are golden sandy beaches, happening beach shacks and plenty of sea shells. A perfect spot to enjoy either your own company or a lover's hug, away from all the city noises. The serene piece of beauty, Cherai Beach is located at Vypin Island.
Don't miss: Explore the surrounding, especially the backwater, fishing nets, thick coconut grooves and paddy fields. You may be lucky enough to spot dancing dolphins
Opening hours: The best part about this beach is that it's accessible 24*7. However, we recommend to refrain from entering the water during high tides.
Entry fee: None whatsoever.
11. Veeranpuzha Beach – See the gorgeous sunset views here!
A typical Malabar coastal topography with serene beaches, lush green bordering vegetation, fisherman settlements and sandy shore line sums up the picture of Veeranpuzha Beach. The beach and its backdrop are among the most placid tourist places in Cochin. Certainly a stop that assures calmness, peace and quality time with your near ones.
Don't miss: Explore the surroundings, walk on the beach and visit the fishermen villages to know more about their work and working styles.
Opening hours: It's accessible to public 24*7. However, please respect the privacy of fishing villages and their homes.
Entry fee: None
12. Gowreeswara Temple Cherai – One of the prime religious places to see in Cochin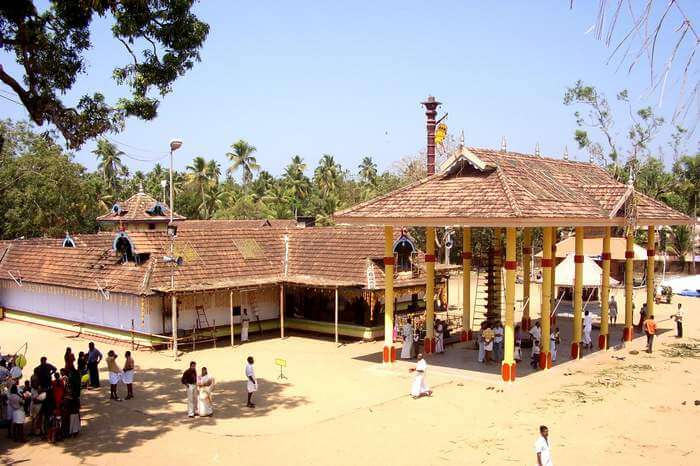 Cherai located in the Cherai village area is one of the prime Hindu religious places to see in Cochin. It is locally called Malyala Palani and Muruga Temple. The main God worshipped here is Lord Subrahmanyan. Though the nomenclature is after Lord Gowreeswara, Lord Subrahmanyan's father.
Don't miss: This is the only temple in India with Chaturmukha Kovil, which is a Dravidian architecture style with doors on all four sides. If you happen to visit in the last two weeks of January and first two weeks of February, watch out for caparisoned elephant march, which is a part of the Cherai Gowreeswara Temple Festival.
Opening hours: 3.30 am to 11.30 am, and 4 pm to 8 pm on every day of the week.
Entry fee: None
13. Shiva Temple – One of the 7 royal temples in Kochi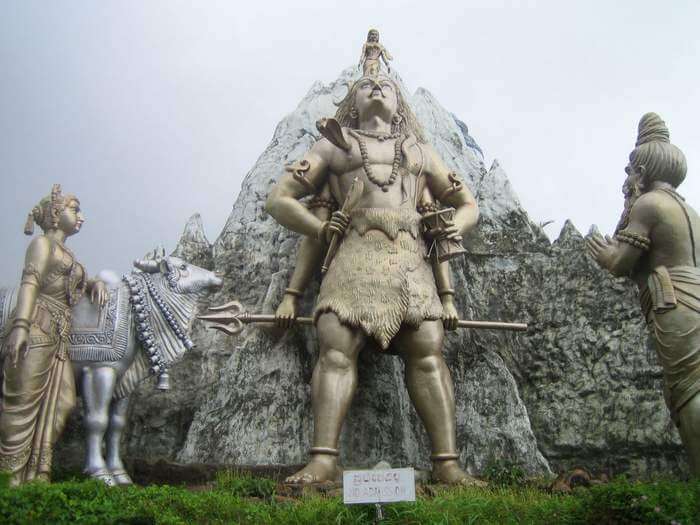 Located in the downtown Cochin, Shiva temple is also known as Ernakulathappan Temple. It is one of the seven royal temples of Kochi Maharaja and is considered as the one which protects the entire city. This temple is a popular tourist place in Cochin, not only among locals but also among inter-state visitors.
Don't miss: Observe and marvel at the traditional temple structure that reflects the Malabar heritage, especially the finely sculptured walls, sanctum complex and delicately decorated gates or gopuram.
Opening hours: 03.30 am to 8 pm on all days of the week
Entry fee: None
14. Ernakulam Mahadeva Temple – An ancient temple in Kochi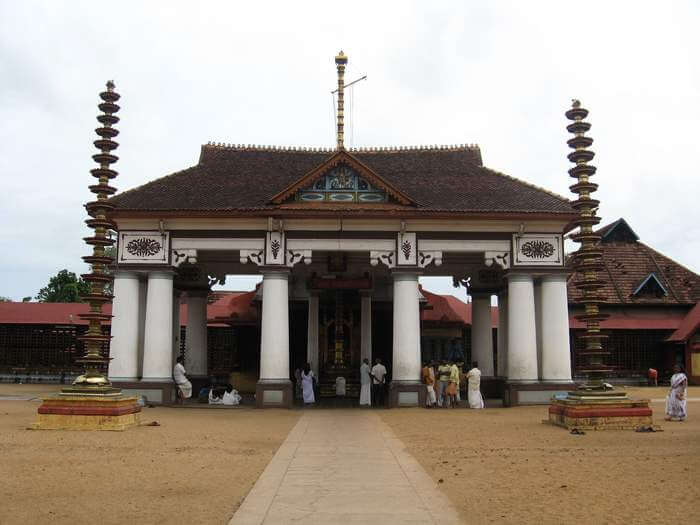 Ernakulam Mahadeva Temple is located in the heart of Cochin city. It is one of the ancient Hindu temples dedicated to Lord Shiva. The significance of this temple is that it's the only pilgrimage in South India where the idol of the deity is facing towards the west.
Don't miss: The typical Kerala style architecture and temple pattern. The use of wood, stone and metal on the exterior, as well as interior is truly remarkable.
Opening hours: The temple is open on all days of the week from 5 am to 12 pm, and 4 pm to 9 pm
Entry fee: None
Nightlife info
Nightlife in Kerala is a little offbeat, in a not so settling manner. The recent government regulations have taken the already nascent nightlife here two steps backwards.
If you're visiting Kerala and you happen to search the world wide web for "Nightlife in Kochi", names like Velocity, Glow, Longevity, Nasha are bound to crop up. Unfortunately, these places have all shut down courtesy the government's regulations.
Though most places are allowed to serve beer and wine, only hotels with 3-stars and above are permitted to serve hard liquor. If you are looking to shake a leg after drinking, we hate to break it you, but Kochi has no discotheques as the government has banned dance floors too (unless it is a private party and special adjustments are made).
Moreover, nightlife in Kochi does not go beyond 11:00 PM, so dreams of tippling and dancing till wee hours of the morning is almost utopian.
That said, Kochi knows to make the most of the situation and have quite a few happening lounges and restrobars that illustrate exciting times for their customers with a combination of exotic drinks, palatable food, and groovy music.
Below are 8 places you can get the party started and have an assured fun time
1. Mezzo, Avenue Regent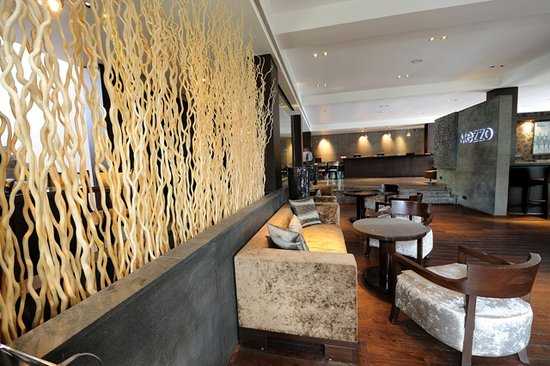 Situated in the heart of Ernakulam, Mezzo is one of the most popular restrobars in town. It's chic, casual and almost always packed. An extensive international selection of liquor and wine along with an exclusive cocktail list makes it Plan A when your agenda for the day is to lounge over a drink. The food is par excellence and all the teetotallers in your gang are bound to enjoy the food if not the alcohol you are sipping. A delectable range of European and Oriental fusion alongside, local seafood delicacies, tapas touchings, and steaks are the perfect companion to your tipple. If you do visit Mezzo, pop by the cafe next door called Coco tree famous for its mouth-watering desserts.
Timing - 11:00 AM - 12:00 AM Cost for 2 - INR 1500 Address - The Avenue Regent, Mahatma Gandhi Road, Pallimukku, Kochi
2. Sky Grill Lounge Bar & Restaurant, Crowne Plaza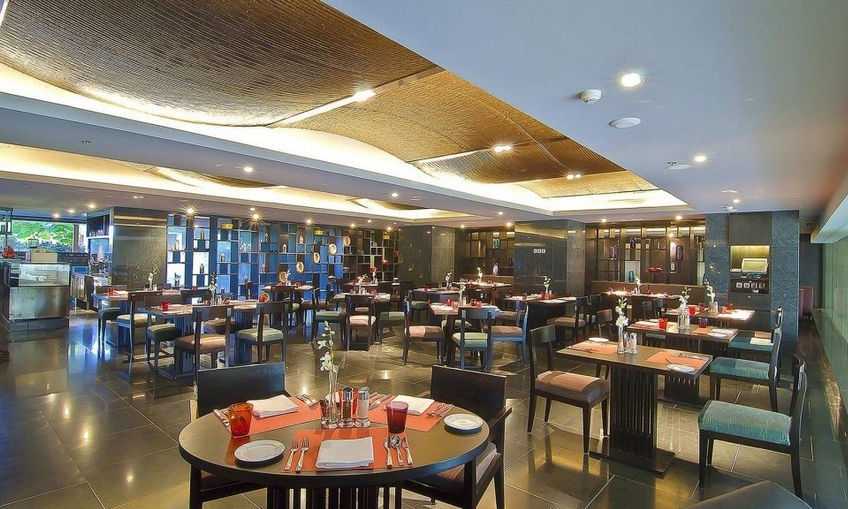 Sky Grill is a rooftop bar and offers panoramic views of the glistening backwaters with the Kochin Oil Refinery standing tall on the horizon. This may not be your ideal choice for dinner as their menu is skewed towards finger food that goes well with alcoholic beverages. They have both indoor and outdoor seating, so you can choose your pick based on your affinity for mosquito bites. That apart, there's no place better in Kochi savour the experience of dining under the stars in a sophisticated elevation.
Timing - 06:30 PM  - 12:30 AM Cost for 2 - INR1600. Before you head here, check if there is DJ playing as this will incur INR 2000 entry charges. Address - 641A, Kundanoor Junction NH47 bypass Maradu, Ernakulam
3. Armoury Restrobar, Brunton Inn Boatyard

Situated on the banks of the Boatyard, Armoury restrobar is a part of a colonial Inn situated in Fort Kochi. The name Armoury was derived from the guns and weaponry used to adorn the walls of the retro bar. A mix of Dutch and Portuguese architecture, this restaurant flaunts timber wood ceilings and white walls with vintage furniture giving a rustic aura to space. Do take note that this restrobar serves only beer and wine. The food here makes up for the limited choice for alcoholic beverages. If you're a seafood fanatic, you're in for a treat as the chef here is known for his authentic Kerala seafood preparations which will have you craving for more. Pair that up with appam, and you are sure to have a memorable meal. If you're lucky, there may be live performances which will liven up your night all the more.
Timing - 19:30 - 23:30 Cost for 2 - INR 2100 Address - Brunton Boatyard, 1/498, Calvathy Road, Fort Kochi, Kochi
4. Seagull, Fort Cochin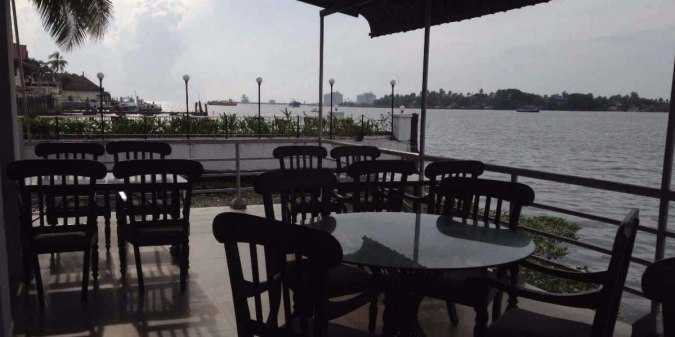 Seagull is another popular hangout in Fort Kochi where you see both foreigners and localities wining and dining by the sea with the famous beef olathiyadu and economically priced alcohol. Once again, Seagull serves only beer and wine. They have an indoor section as well as an outdoor section which overlooks the port and offers splendid views of ships and ferries shuttling by. There is one table on an elevated pier and that's touted to be the best seat in the house. If you are not a fan of the sickly sweet ocean sea smell, you may want to consider other options as Seagull being located bang on the Arabian sea has occasional wafts of this stench.
Timing - 10:00 AM - 11:30 PM Cost for 2 - INR 800 Address - Hotel Seagull, Calvathy Road, Fort Kochi, Kochi
5. Swirl, Taj Gateway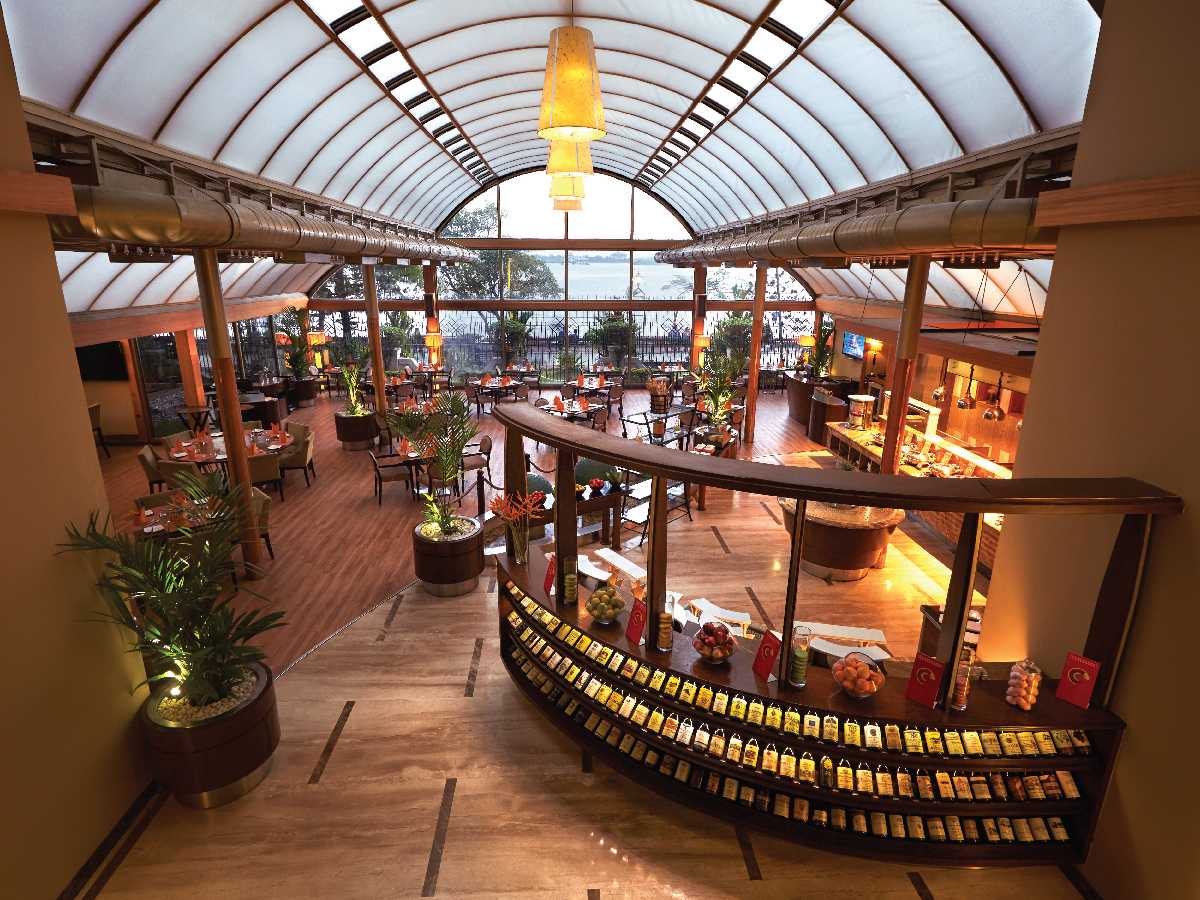 Source
Swirl is a swanky lounge with music that will tempt you to get up and tap your feet, but for the lack of a dance floor, you may resort to chugging another drink. Especially since they offer a fine selection of contemporary and extravagant drinks like Whiskeys, Jamaican Rums, Martinis, Wines, Beers, and Cocktails. Apart from the classics, they also have their own signature line of drinks and a fine selection of liquors including aged malts and cognacs. The interiors scream elegance with plush furniture in tawny and pecan shades, soft lighting and tasteful modern art. The centrepiece made of windchimes which rustles everytime a breeze blows by is the show stealer. Class personified, this is where you need to head for a fine dine accompanied by fine drinks.
Timing - 11:00 AM - 11:00 PM Cost for 2 - INR 2000 Address - The Gateway Hotel, Ernakulam, Marine Drive, Kochi
6. Mattancherry Bar, Vivanta by Taj - Malabar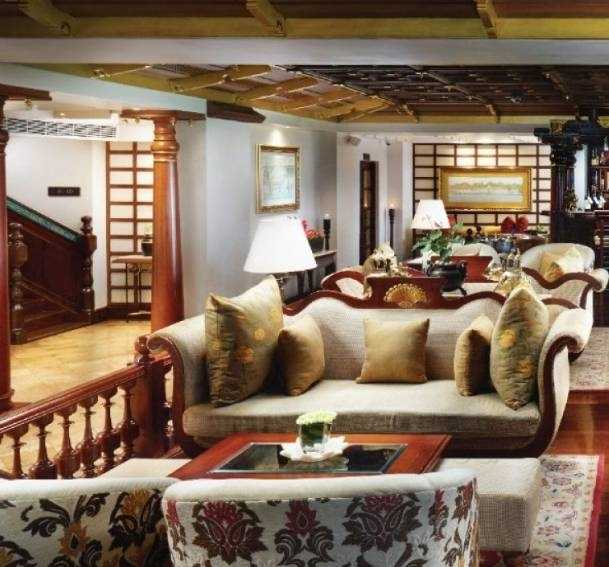 Yet again another gem in Fort Kochi, this lodge-themed bar sits at a vantage point with a breath-taking view of the Cochin Harbour. Cocooned in an old world charm, this place is quite the delight for a sundowner drink as the pinkish-orange sun casting a hue over the water is sheer beauty. This eclectic ambience teamed with their selection of alcoholic beverages and finger food assures a swell time. There's always live music, mostly a pianist playing a few old melodies, Bollywood numbers as well as old Malayalam music adding to the aura of the setting.Unlike other pubs/restrobars in Kerala, Mattancherry Bar is strict about the age limit for alcohol consumption and allows only those above 21 with valid identification proof.
Timing - 11:00 AM - 12:00 AM Cost for 2 - INR 2000 Address - Vivanta by Taj - Malabar, Willingdon Island, Kochi
7. Ava Lounge, Radisson Blue 
A vibrant and electric lounge with talented bartenders is as close as it gets to a clubbing atmosphere in Kochi. Though there is no official dance floor, the underground dub music works up the vibe and has people grooving in no time. They have live musicians drumming even better music on Saturdays and Sundays making it all the more popular. Though you may not see much of a young crowd here, they have a decent selection of alcohol and is priced on par with other pubs around. They run Happy Hours from 11:00 AM  - 04:00 PM and needless to say this period happens to be their prime time.
Timing - 11:00 AM - 12:00 PM Cost for 2 - INR 2500 Address - Radisson Blu Kochi, Sahodaran Ayyappan Road, Elamkulam Junction, Elamkulam, Kochi
8. Longitude 76, Le Méridien Kochi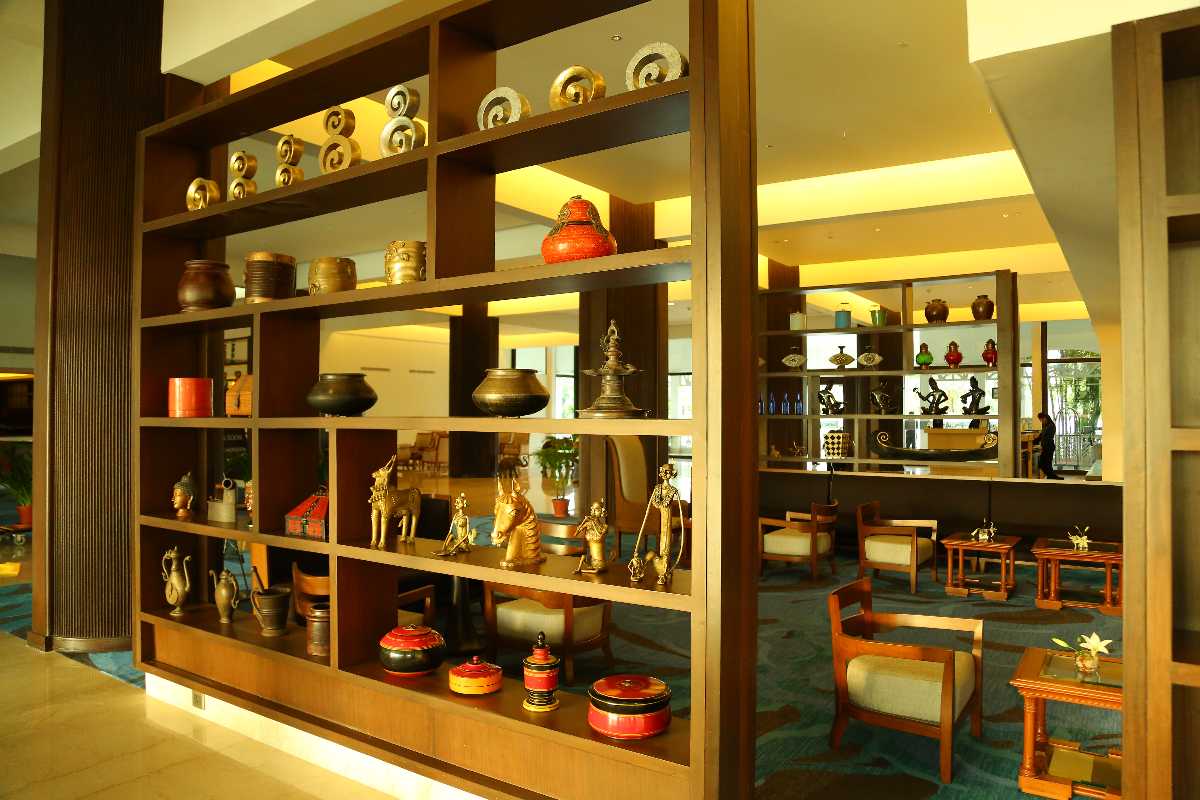 A posh setting with blue carpets and plush sofas, Longitude 76 lives up to the Le Meridien standards with copious alcohol varieties and a menu that handcrafts dish as per your liking. Their Happy Hours pan from 16:00 - 21:00 alongside occasional promotional offers on Sangrias, Beers etc. They also have a pool facing Longitude extension which is highly recommended during the evening hours. Longitude 76 has a certain opulence to it which makes it a favourable choice to dine and wine with your peers and family.
Timing - 10:00 AM - 11:00 PM Cost for 2 - INR 2000 Address - Le Méridien Kochi, Marad, Kochi
March 2018 will see the opening of a Luxury Poolside Bar and a rooftop bar named Colony Clubhouse & Grill in Grand Hyatt, Kochi Bolgatty. 
Dress Code Tip: Smart Casuals are a norm in all the above Nightlife Places.
Though Kochi may not be your ideal nightlife dream spot, suit up or put on some shimmer, grab your crew and head out to experience nightlife, the Kochi way. You will take a liking to it much to your surprise and perhaps go back for more!
Culture and history info
Before starting with the list, let's share a brief history of Kochi, previously and more popularly known as Cochin. It is an important port of south-west coast of India and was once a significant spice trading hub. If we go back to history, we see Greek, Roman, Portuguese, Arabic and Jewish settlements in Cochin for trade and commerce purposes. The city is also referred to as Ernakulam.
Today, Cochin stands as an important city and tourist place in Kerala. It is also popular with tourists heading South for religious tour. Each one of the mesmerizing places to visit in Cochin has some kind of historical and colonial significance to it.
Languages spoken
Malayalam, English
---
Read more
We are sorry, there are no reviews yet for this accommodation.
